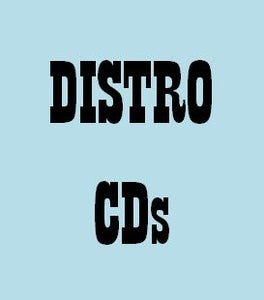 £

5.00
We've got lots of great CDs in on distro from a variety of great punk rock bands from around the world.
Aree and the Pure Heart - Heartsongs - Excellent folk punk sort of stuff similar to early Against Me / Tom Gabel stuff.
Broadway Calls - Call The Medic - Excellent first EP from one of the best pop punk bands out there.
Hans Roofthooft + Red Cloud - Split - Great acoustic split of folk songs from Hans (F.O.D.) and Red Cloud from Belgium.
Not Half Bad are a great band from Fort Worth, Texas, who in their own words 'plays Energetic Dirty Folk/Punk focused on eating tacos, having a good time, and playing too many shows'.
Not Half Bad - Good People - Excellent full length from Fort Worth, Texas based punk rock / folk band Not Half Bad. Get into these guys!
Not Half Bad - Sorry Dudes - Latest EP from Not Half Bad, more great tunes!
The Priceduifkes - Goathorse - The best punk rock band in Belgium? 12 tracks of great punk rock / pop punk from these crazy Europeans!
The Spacepimps - Eternal Boy - Ever think about those early 2000 days when life was simpler and music was just about being fun, fast and catchy? Well The Spacepimps certainly havent forgotten them, and this their latest album is chock full of big pop punk tunes, sure to get you nodding your head and singing along straight from the off!
Survay Says - Observations Of The Human Condition - Awesome ska / pop punk band from New Jersey, USA. Bringing a great melodic ska and horn driven punk rock sound not too far away from the likes of Less Than Jake and We Are The Union, 'Observations Of The Human Condition' is equal parts, singalong pop punk, fist pumping punk rock, and fun ska punk.
Trophy Lungs - Day Jobs - Fun times melodic punk rock from the States FFO Direct Hit, Banner Pilot, Alk 3 etc
You Nervous? - Furry Tales - 90's style punk rock / skatepunk sort of stuff. Really great album.